Posts for: April, 2018
By Dr. Mark Scheiderich
April 21, 2018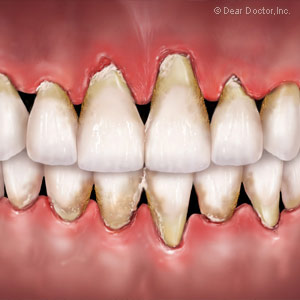 We're all susceptible to gum disease when we fail to practice effective daily brushing and flossing. But you may have a greater risk of gum disease (and more severe forms of it) if any of the following categories pertain to you:
Aging. Gum disease risk naturally increases with age. We can lower the risk with an effective daily hygiene regimen, along with a minimum of two office cleanings and checkups each year. Brushing and flossing removes bacterial plaque and food particles which accumulate on tooth surfaces. The longer plaque remains in contact with gum tissues, the greater the chances of infection.
Pregnancy. Although women tend to take better care of their teeth than men, they still face unique issues that increase their risk. During pregnancy, for example, certain hormone levels rise, which cause the gums to become more responsive to bacteria. Other hormonal fluctuations throughout a woman's life, including taking certain drugs for birth control or during menopause, can cause similar situations.
Family History. You could be at higher risk if members of your immediate family have a history of gum disease. Researchers estimate that 30% of the U.S. population has a genetic predisposition to the disease; it's also possible for family members to transfer bacteria to other family members by way of saliva contact or shared eating utensils.
Smoking. Nicotine, the active ingredient in tobacco smoke, causes changes in the blood vessels of the mouth that could inhibit the flow of antibodies (produced by the body to fight infection) in the bloodstream. As a result, smokers experience more rapid disease development and greater detachment between teeth and gums than non-smokers.
Other Inflammatory Conditions. A number of studies indicate people with other inflammatory conditions like heart disease, arthritis or diabetes have a higher risk for gum disease. Some researchers have even suggested that bacteria associated with gum disease pass into the blood stream and threaten other parts of the body — an added incentive to seek treatment and stop the disease's advancement.
If you fall into any of these risk categories, it's even more urgent that you practice effective daily hygiene with regular office checkups. Additionally, if you begin to notice bleeding gums, tenderness and swelling, or loose teeth, contact us as soon as possible for an evaluation.
If you would like more information on the diagnosis and treatment of gum disease, please contact us or schedule an appointment for a consultation. You can also learn more about this topic by reading the Dear Doctor magazine article "Assessing Risk for Gum Disease."
By Dr. Mark Scheiderich
April 11, 2018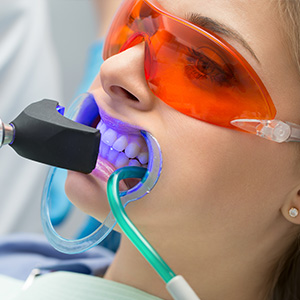 If you're ready to put the "pizzazz" back into your smile, your dentist may be able to help. It's possible your dull, dingy smile could be transformed with teeth whitening.
Teeth whitening or bleaching is a technique that applies a solution with a bleaching agent (usually up to 35% hydrogen peroxide in an office setting) to the teeth to whiten them. Although there are Do-It-Yourself home whitening kits you can use, there are a few good reasons why you should first consider a whitening procedure in a dental office setting.
To begin with, you should first have your teeth examined by a dentist to determine why they're discolored. Certain foods and beverages we consume or tobacco habits are the usual culprits causing stains on the enamel, the outermost tooth layer. These are the kinds of stains targeted by most whitening solutions.
But the interior of a tooth can also become discolored for reasons like trauma, past dental work or tetracycline use at an early age. If your staining is internal (intrinsic) rather than external (extrinsic) reducing that discoloration will require an invasive procedure only a dentist can perform—a home kit won't be able to do the job.
Another reason for having your teeth whitened by your dentist (even extrinsic staining) involves your time and the degree of brightness you'd like. Because dentists use stronger bleaching solutions (home kits usually use a weaker solution of 10% carbamide peroxide) it takes fewer sessions than home kits to achieve results—and they may last longer. In addition, dentists have more control over the level of brightness to match your expectations of a more subdued, natural look or a dazzling "Hollywood" smile.
A dentist can also help you navigate special circumstances like matching and managing natural teeth whiteness with dental restorations (which don't bleach) or special whitening situations like a single discolored tooth.
Even if you eventually decide to go the home kit route, consulting with a dentist first can still prove helpful. You'll get expert advice on products, tips on how to apply them and how to prolong the whitening effect. Whichever way you go, home kit or dentist, you can gain a brighter, more confident smile with teeth whitening.
If you would like more information on teeth whitening, please contact us or schedule an appointment for a consultation. You can also learn more about this topic by reading the Dear Doctor magazine article "Important Teeth Whitening Questions…Answered!"